Inspiring Confidence and Personal Growth 
M.A. graduate and mentor, Alana Dunbar, and Anthropology student
and mentee, Jayani Srigouranga, share their mentorship journey
Jayani Srigouranga was a shy and quiet student at the Department of Sociology and Anthropology in 2019. Two years later, she's the co-president of SocAnth Student Association, a Faculty of Arts and Social Science ambassador, and was part of the Decolonization and Anti-Racism Committee (DARC) of her department. What influenced this change? Her alumni mentor Alana Dunbar's support and guidance.
Srigouranga and Dunbar met through the Carleton University Alumni Mentors program, which connects upper-year students and recent graduates with professionally established alumni. The two were paired due to their similar academic choices. Dunbar was in the first undergraduate cohort of African studies at Carleton while Srigouranga is majoring in Anthropology with minors in African Studies and American Sign Language.
"When you are studying in a program where it feels like there's no tangible outcome, it's especially stressful because in some ways you don't have this direct career path," says Dunbar. "But there's a massive opportunity because you can do anything you want."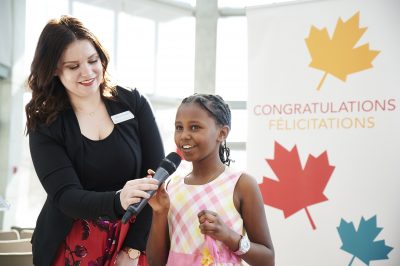 After multiple career and continent jumps from Tanzania to Malawi to Ontario, Dunbar is now the Manager of Fundraising and Communications for the Toronto-based Institute for Canadian Citizenship (ICC).
Pre-pandemic, it was unusual to have virtual meetings. But since Dunbar lived in Toronto and Srigouranga in Ottawa, their two-year mentorship has been fully online except for their first and only in-person encounter at the Carleton University MacOdrum Library. Their relationship has been unique since the beginning.
"I remember Jayani saying how silly and insignificant her past job experience was and I was like, 'Whoa. Hold the phone! I never, ever want to hear you talk about how you had a silly experience,'" says Dunbar, reflecting on their first meeting. "Let's lean into what is so amazing about what you do know."
Srigouranga credits her mentor for building her confidence and helping her become an improved and empowered version of herself.
"Who I am now versus who I was two years ago are two different people," says Srigouranga. "I lacked confidence and it really took me joining this program and having Alana to guide and push me for me to see my potential. I definitely attribute a lot of my success to her."
For Dunbar, the most rewarding outcome of this mentorship has been Srigouranga's personal growth, confidence boost, and community involvement.
"Helping someone to see their true strengths… it's the best," says Dunbar.
"Watching Jayani grow, it feels like I get to celebrate all her wins and the big moments with her, and I'm really just so proud of how far she's come in her own learning journey."
Srigouranga says she now wants to pay it forward by integrating the alumni mentorship program with her department.
"I've definitely gained so much from this program over the past few years that I would like to see every university student have that same experience."
Monday, May 17, 2021 in Mentorship Impact
Share: Twitter, Facebook