| | |
| --- | --- |
| Job Title: | Development Manager |
| Employer: | EA Sports |
| Grad Year: | 2017 |
| Degree(s): | B. Information Technology |
| Major(s): | Interactive Multimedia and Design (IMD) |
| Expertise: | Project Management |
| Industry: | Tech |
What makes you a good mentor?
Breaking into industries like VFX or Gaming is not always so easy. I myself would not have gotten the start I did without the support of a fellow IMD alumni; so it's a big driving force for me to be able to give back and offer others the same chance I was fortunate enough to have. It's also really exciting for me speaking with students who are passionate about their upcoming careers, and if I can be at all useful in helping them unleash their potential or guide them on their way, that's really rewarding.
About Taryn Laurendeau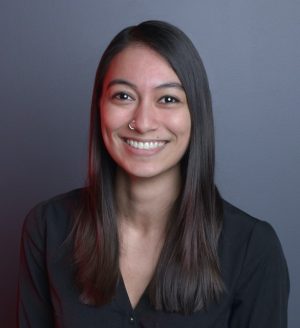 Coming from a creative and technical program like IMD, I happened to find myself leveraging a "Jack of all Trades" knowledge of the technical and 3D space as a Project Manager in the tech/entertainment worlds.
I kicked off my career in Visual Effects for film, working on a handful of films like Pirates of the Caribbean and Justice League. I started off dabbling in Software Development before moving to Production Coordination and eventually working as a Production Manager, overseeing projects in their entirety.
I now work in gaming, as a Development Manager at EA Sports. While it's a change in industry, there's a common theme of working with teams of passionate and talented artists and tech gurus – and of course, CG. I continue to oversee specific features of a project and manage a team of artists while partnering with stakeholders to bring a vision to life.
While I entered the IMD program to become a 3D artist, I quickly learned my natural artistic abilities may not bring those dreams to fruition. I developed a basic programming background that allowed me to break into the industry during my first co-op placement – but I also realized I wasn't meant to spend my entire work week cracking code alone. That's when I discovered Project Management – where my compulsive organizational habits and need for workflow structures and clean schedules proved to be professional assets; and I get to spend my days interfacing with different people and groups – helping to clear the path for artists and developers to work their magic.