| | |
| --- | --- |
| Job Title: | Director of Business & Technology Development |
| Employer: | MDS Aero Support Corporation |
| Grad Year: | 1993 |
| Degree(s): | B. Eng. (Aerospace) |
| Major(s): | Engineering |
| Expertise: | Engineering |
| Industry: | Engineering |
What makes you a good mentor?
In my tenure at MDS, I have had numerous opportunities to work with co-op students, and the experience is always fulfilling - to see someone grow and develop in their career is a beautiful thing. I am also very active in the community as a guide to athletes who are visually impaired - this is something that brings me great joy, mainly because it is an opportunity to be a part of something greater, and an opportunity to participate in my community and in my own life. I see mentoring as a similar opportunity. And an opportunity to pass on to future engineers the importance of social responsibility, empathy, and humility.
About George Hajecek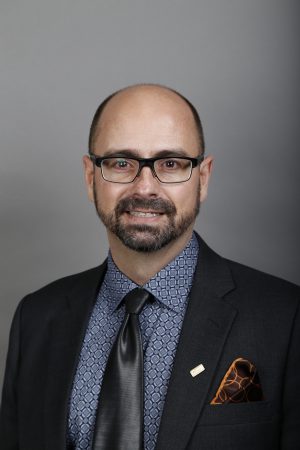 George is a Professional Engineer with two decades of experience in engineering and design and numerous roles and adventures within MDS leading him to become the Director of Business & Technology Development. George is a highly conceptual and creative thinker, with proven problem solving capability. George possesses strong analytic and technical skills and the ability to create a vision. These are combined with demonstrated abilities in technical management and team leadership to execute that vision.
George came up through the mechanical engineering department, then moved to the systems engineering group, and most recently transitioned to marketing.
In addition to engineering, George has a strong passion for community involvement. George serves as a guide to visually impaired athletes in both triathlon and long distance running. George also volunteers in community classes. He has taken time off through his career to travel the world, and also to pursue education outside of engineering, which he has found has greatly impacted his ability to see engineering as a social activity, with social responsibility.