| | |
| --- | --- |
| Job Title: | Strategic Policy Planner |
| Employer: | Department of National Defence |
| Grad Year: | 2015 |
| Degree(s): | M.A. Public Administration |
| Major(s): | Public Policy and Administration |
| Expertise: | Public Policy |
| Industry: | Public Service |
What makes you a good mentor?
I like dealing with people - exchanging ideas and passions. Having the chance to help others find what they are looking for in life is personally rewarding and enriching.
About Jeffrey de Fourestier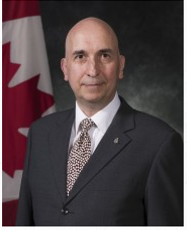 Jeffrey presently works as an advisor at the Department of National Defence where he previously administered the Memorial Ribbon Program at recognizing the loss of families of members of the Canadian Armed Forces that have died due to duty-related illness or injury. In all, he has been a public servant for over 25 years at a Parliamentary Agency, Treasury Board and the Canadian International Development Agency in mainly policy development, analysis and administration. His efforts in service to the public were recognized through the 2015 Public Service Award of Excellence.
Previous to working in government he worked on contract for the UN drafting the first education strategy on AIDS education for young people and was a senior director of the International Organisation on Youth and Law in Montreal. Besides having given many presentations in a wide variety of fields in various countries and having been on a panel of experts for the 1st UN-sponsored conference on fatherhood held at Oxford, he has found time to publish numerous academic articles in public administration, language policy and mineralogy.
Currently, he is a part-time lecturer of earth science and Senior Academic Advisor at the East China University of Technology in Nanchang in the PR China. He is also an editor of a Chinese academic journal and Chairman of the IMA Subcommittee on Unnamed Minerals. His "Glossary of Mineral Synonyms" is considered a standard reference and is in most major university libraries around the world (including Carleton's reference library). In 1989 he was awarded the Meritorious Service Medal for his actions in China while representing McGill University. In 2012 he was awarded the Queen's Diamond Jubilee Medal for his scientific research and charitable work. He is a Fellow of the Mineralogical Society of Great Britain and Ireland and a Fellow of the Royal Society of Arts.
In addition to a Master of Arts (M.A.), Public Administration from Carleton University, Jeffrey also completed a Graduate Diploma in Public Policy and Program Evaluation (DPE) in 2009.