Creating Your Own Story: Starting Your Career with the Right Mentor
Alumni mentor, Rita Celli and mentee, Sissi De Flaviis, share their mentorship journey
The field of journalism is not for the feign of heart. It takes courage to create stories that are fair and thought-provoking. A few months after graduating from Carleton University's Bachelor of Journalism program, Sissi De Flaviis was embarking on her career as a journalist. Like many recent graduates, De Flaviis felt lost in a sea of opportunities. While researching resources, she discovered the Carleton University Alumni Mentors program. Her match with Alumni Mentor and CBC Radio One host, Rita Celli, supported De Flaviis' career momentum.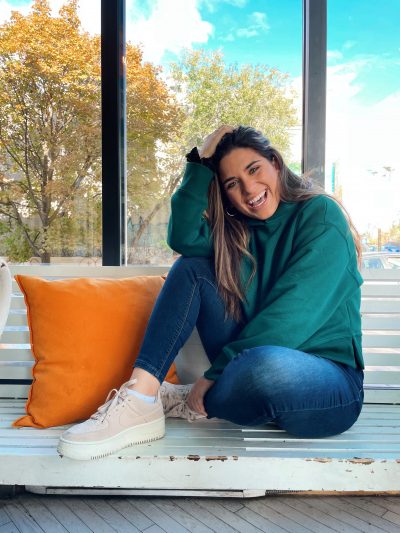 The spark begins with the match. De Flaviis applied to the Alumni Mentorship program in the Fall of 2020. The Alumni Mentorship program accepts mentees who are upper-year students or recent graduates. As a recent graduate, De Flaviis was looking for a mentor who could help her reach her professional goals. Each mentorship pairing is carefully and intentionally designed by an Alumni Relations Officer. While most matches are made in the Fall, the Alumni Relations Officer, Jennifer Gray was determined to find an ideal match for De Flaviis. In the Winter of 2021, De Flaviis was introduced to Rita Celli.
Connecting quickly, the pair discovered many similarities. Not only were they both employed at CBC, but they each had ancestry from the same Italian region of Abruzzo. Like many mentoring relationships, the pair were comfortable discussing their professional passions along with their personal experiences.
Passion is no stranger to Celli. As the host of CBC's ONTARIO TODAY radio program, Celli invites the public to call in and share their opinions on the contentious issues of the day. With 31 years of experience, Celli had a wealth of interpersonal and technical skills, along with a deep understanding of the journalism industry. She found it meaningful to share this knowledge with the next generation of journalists. Through their connection, De Flaviis was introduced to a new network of CBC employees and was able to gain new skills in radio broadcasting.
This was Celli's first year in the Alumni Mentorship program. While De Flaviis benefited from her mentor's vast experience, Celli also reflected that she benefited from the mentorship. Having a mentee that was at the beginning of her career and from a younger generation allowed Celli to gain a different perspective on journalism topics. In particular, Celli and De Flaviis had productive conversations around the themes of cancel-culture and the impact of social media.
"It was thrilling to hear from a young person about what they think about these current topics. recalls Celli. "Sissi is just at the beginning of her career. It's exciting to see everything that she accomplishes."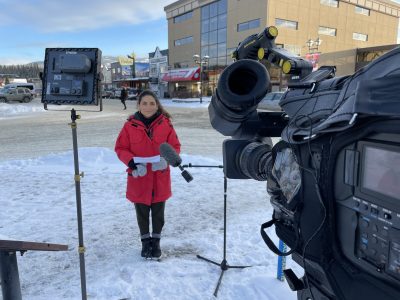 A significant moment for the pair came in the form of an incredible job offer. De Flaviis had been offered a position to work as a Reporter/Editor for CBC in the North. It was a dream opportunity for De Flaviis who wanted to further demonstrate her broadcasting skills, but the position would relocate her to Whitehorse, Yukon.
"When I got the job offer, I called Rita even before I called my Mom. I needed an impartial opinion… We discussed the pros and cons. I came to the conclusion that it was an opportunity that I couldn't pass up," explained De Flaviis.
As this mentorship took place during the COVID-19 Pandemic, the pair connected virtually throughout the year. However, before De Flaviis moved to Whitehorse, they were able to meet safely in person. Even though the mentorship program typically lasts for one academic year, De Flaviis and Celli have continued to catch up.
"I feel more clear about what I want to do," explained de Flaviis. "Mentorship helps. It's special to have someone supporting you and vouching for your skills."
Thursday, June 9, 2022 in Mentorship Impact
Share: Twitter, Facebook