Written by Jeffrey Morris
You will have to excuse Alison Korn (MJ/98) for taking some extra time to earn her Master of Journalism degree from the Carleton School of Journalism and Communication. During her studies at Carleton, Korn was busy winning a silver medal for Canada at the 1996 Atlanta Olympics.
"I had to pause my master's," Korn recalled. "Instead of doing it in two consecutive years, I took a year off to train full-time with the national rowing team and returned to Carleton after the Games."
One professor, in particular, Bob Rupert, had encouraged Korn to seize the opportunity after her first year at Carleton to move to London, Ont. to try out for the Canadian national women's rowing team and temporarily pause her studies.
Rupert recently passed away, but he had an immense impact on Korn's career. "I'll always remember his advice, telling me, 'You go make that team. You have the rest of your life to do journalism. You can always come back here.'" That was the encouragement I needed to pursue the Olympic dream that seemed a long shot at the time, but then did end up being within reach."
Growing up in Nepean, Ont., she had never rowed and had not even considered it a sport she would ever try.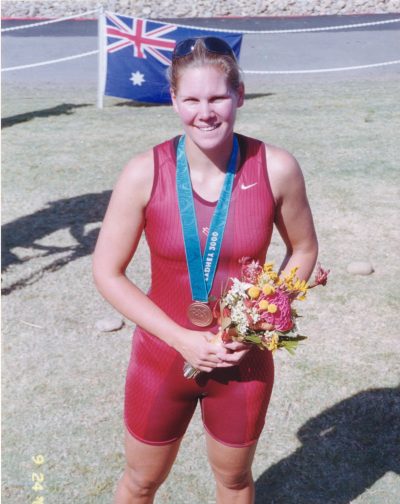 "I went to McGill for undergrad with a basketball and hockey player background," Korn said. "I studied political science. In my last year at McGill, I tried rowing."
Helped by her six-foot-one height, Korn got very good at rowing very quickly. When she started at Carleton in the Masters of Journalism program, she joined the Ottawa Rowing Club. She quickly ascended in the sport and got on the radar of the Canadian national team.
That eights crew won a silver medal in Atlanta in 1996, and Korn remained on the national team through to the Sydney 2000 Olympic Games, where they won the bronze. In the years between the Games, she finished her Master of Journalism and competed at three world rowing championships in 1997, 1998 and 1999, winning five medals, including two world titles in the pair with Emma Robinson.
After Sydney in 2000, Korn finally turned her focus to full-time journalism. The next decade included work with Ottawa Citizen, CBC Sports and Sun Media. Korn then transitioned from journalism to media relations, working for the Canadian Paralympic Committee. In that role, she became devoted to maximizing the media coverage and awareness of Canada's Paralympic movement and its athletes. After switching career lanes again, Korn now works as media relations and issues management advisor at the Senate of Canada.
Journalism and public relations have changed as much as any industry globally over the last two decades. Korn said that despite the massive changes, communications fundamentals have not changed.
"The foundation that I gained from Carleton has stayed with me through the years and has served me well," she said. "The platforms may be different, but fundamentals like the attention to accuracy, timeliness and clarity remain important."
Korn received a special honour in 2016, as she had a street in Nepean named after her. Alison Korn Private is located in the Bells Corners community, not far from where she grew up.
Over the years, Korn has become a big believer in giving back to the community.
"Financially, I like to support Carleton because I am grateful for how it helped shape my life journey," she said. "But I also find it rewarding to donate my time to the sports community at a very local level."
When her kids were younger, Korn was an involved multi-sports parent and spent a decade as a leader with Girl Guides of Canada. Now, she contributes to several volunteer boards – including the Ottawa Sport Council, GO Capital Artistic Swimming, and the Nepean Sports Wall of Fame.
"Along the way, many people volunteered, coached, taught, and pitched in so that I could have the experiences I have had," she said. "I am at a point in my life where I want to give back and help provide some of those opportunities for the next generation of student-athletes."
Thursday, March 31, 2022 in Give Back
Share: Twitter, Facebook