Bruce Foster, a.k.a Mr. Kool
Carleton alumnus Bruce Foster is not your traditional author.
He didn't study literature or creative writing. He doesn't have an agent or a publisher. He hasn't been developing a portfolio of stories over a lifelong writing career. In fact, he boldly embarked on his writing journey just nine years ago, at the age of 61.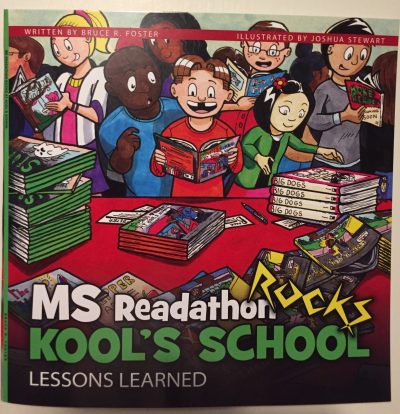 As a career educator and principal, Foster is no stranger to teaching and learning. It's what he has always done; what he has always loved. That's why, when he chose to retire in January 2010, he started jotting down lessons learned from his teaching career that he hoped to one day turn into educational children's books.
Fast forward to 2019, and his writing career is flourishing. He has built an enterprise of non-fiction children's books—the 'Kool Kids' series—that follow Mr. Kool, an elementary school principal based on Foster who helps his students learn valuable lessons. With three self-published books to date (available in both official languages) and a laundry list of ideas saved in his computer, there is no end in sight for Mr. Kool.
From Party Animal to Principal
Through his teaching and writing careers, Foster has dedicated his life to cultivating young minds and sharing knowledge. Ironically, his own academic path was not always easy.
In 1967, he began his first year at Queen's University. As a self-described 'party-animal', his focus was on having fun and enjoying his university experience. His grades quickly suffered, and he ended up failing his first year—twice. As a result, he lost his undergrad status. But he didn't give up.
"I took two elective courses—Latin and Sociology—in order to boost my grades and requalify for university," recalls Foster. "I realized that Queen's, for whatever reason, wasn't for me. I thankfully was able to raise my grades enough so I could reapply to other schools. That's when I decided to come to Carleton, where I earned a double major in psychology and sociology."
Foster's time at Carleton sparked in him a passion for learning. He decided to carry on with his schooling, toying briefly with the idea of pursuing law school. His focus shifted, though, following a casual conversation with a neighbour.
"After seeing me interact with her eight children on a number of occasions, my neighbour suggested that I'd make a good teacher," Foster shares. Although it wasn't something he had previously considered, it clicked in his mind. "I got my Bachelor of Education at University of Ottawa, and then went on to do a Master's in Educational Counselling. Subsequently, I took two intensive summer courses to quality as a principal. Originally, I started my rewarding educational career at Pleasant Corners Public School in Vankleek Hill, Ontario."
He was a full-time elementary school principal for twelve years, spending half of his career at the Upper Canada District School Board (formerly the Prescott-Russell District School Board) and the other half at the Ottawa-Carleton District School Board. He is now semi-retired and has served as a substitute principal for the last seven years. He and Sandra, his wife of 41 years, are blessed with five healthy grandchildren with whom they spend considerable time. Additionally, Foster continues to pursue his writing career.
A New Career; a New Platform
It was 2010—two years before his retirement—and Foster was feeling nostalgic. Reflecting on his meaningful career as a principal, he realized he had a collection of great stories and lessons that would be helpful to kids—everything from school bus safety to bullying to dealing with Multiple Sclerosis. He started writing down these 'lessons learned' in the hopes that he could one day share them with his community.
When he retired in 2012, he suddenly had time on his hands to focus on writing. A long-time proponent of Kids Help Phone, he saw an opportunity to build a platform to both promote and support the organization.
"Kids Help Phone is a cause that's been dear to my heart for a long time," says Foster. "While serving in the privileged role of principal, I always included a reminder about Kids Help Phone in the school's newsletters.
"With my books, I wanted to let kids know at an early age that they aren't alone. There are resources—like Kids Help Phone—that they can access for support."
Today, Foster's website and books encourage the use of the service and a portion of the book sales goes toward supporting its mission. He continues: "You can't really measure the impact of it. For me, one life saved through a resource like Kids Help Phone is worth a million dollars."
'Pursue your Passions'
From the very beginning, his writing career has been about making an impact and giving back.
"I've always had a soft spot for the underdog," Foster confides. "As a principal, there's nothing more rewarding than 'turning around' the trouble makers and helping them reach their potential. I like to support people, and I love making an impact on my students. I've had the privilege to do that for years as an educator, and now I'm able to give back and make a difference through my writing, too."
When asked what he would say to young people who want to make a difference in their communities, Foster's answer is simple: "Pursue your passions. If you have an intrinsic interest, cultivate that. There are so many ways to give back, and it can be much more meaningful and sustainable if it aligns with your skills and interests."
Connect with Bruce:
Website: www.mrkool.ca
Email: brucerfoster@gmail.com
Kids Help Phone: 1-800-668-6868