Mentee applications are now closed and will reopened on August 1st, 2023 for the upcoming 2023-2024 cohort. 
This program will provide you with an opportunity to work one-on-one with an Alumni Mentor in your chosen field who can help you to navigate various career options, develop professional skills and expand your network. Mentors are Carleton alumni who are seasoned professionals and industry leaders who want to share their knowledge, resources and passion.
Mentees are either: hard-working upper-year undergraduate students in their third or fourth year,  graduate students or motivated recent graduates (Class of '20 '21 or '22).
To ensure that your partnership is successful, the program requires that all mentor and mentee pairings connect virtually for 1-hour on a monthly basis from October-April. While the program traditionally encourages face-to-face meetings, all pairings for our program have the option to connect via a video communication platform or by phone.
There are a limited number of mentors and we will endeavour to make the most compatible matches possible; taking into consideration your mentor preferences, interests, desired industry and year of graduation. If there is not a suitable match for you from within the current mentor database, you will be added to our wait-list and we will attempt to seek out an appropriate mentor for you.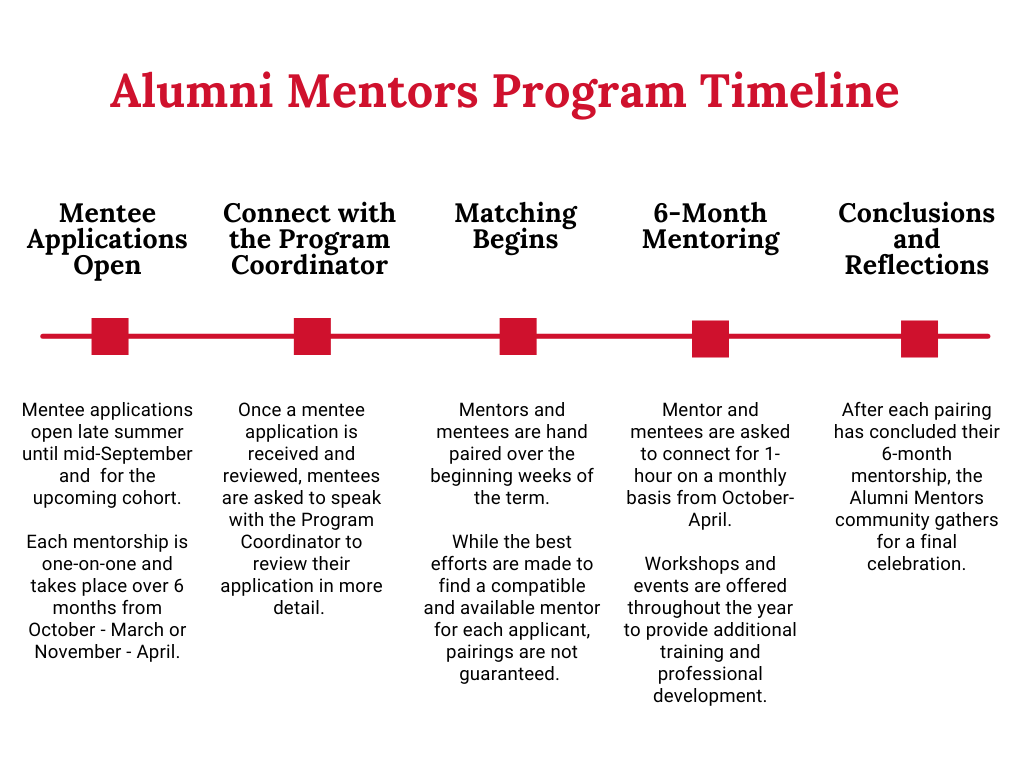 "I made the right decision by getting involved in the program. After every time I met my mentor, I felt motivated about my program, my career path and all the decisions that you make along the way in order to accomplish your goals." 
– Sarita Cuadros Sanchez, 4th year Bachelor of Science (Mentee) & Lindsay Beaton-Green (Mentor), BEng/06, MSc/08, PhD/12, Research Scientist, Health Canada