| | |
| --- | --- |
| Job Title: | Technical Project Manager |
| Employer: | Solace |
| Grad Year: | 2020 |
| Degree(s): | B. Eng. (Biomedical and Mechanical), M. Applied Science (MASc) Technology Innovation Management |
| Major(s): | Undeclared |
| Expertise: | Engineering |
| Industry: | Engineering, Project Management |
What makes you a good mentor?
"If you can see her, you can be her". This quote sums up the power of mentorship for young women in STEM. Having role models that you can relate to, and that provide a sense of "I can do this too" is so critical. I have worked with a female mentor since I graduated from my Bachelors degree, and it has had a significant impact on my career. We still meet regularly, and I consider her a key resource in my network. After experiencing the benefits of mentorship early on, it became my mission to give back to the next generation, and I have since mentored dozens of women. I look forward to working one-on-one to help folks navigate this exciting (and stressful!) time of their life, as they embark on the next steps in their career.
About Jasmine Shaw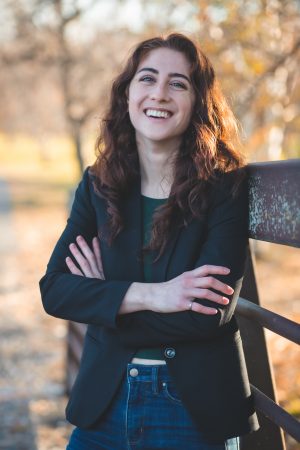 Jasmine (she/her) is a professional engineer, entrepreneur, and passionate champion for women in STEM.
At Solace, an Ottawa-based tech company, Jasmine works as a Technical Project Manager. She manages a wide range of complex programs ranging from strategic engineering features to new product introductions to process design and improvement. Jasmine serves on the Diversity, Equity, and Inclusion committee at Solace.
During her time in Carleton University's Technology Innovation Management program, Jasmine conducted research on Technovation, the world's largest technology entrepreneurship program for girls. Her research focused on the design of business ecosystem structures that enable girls to pursue STEM careers. Jasmine also earned her Bachelor of Engineering (Biomedical and Mechanical) degree from Carleton University in 2016.
Jasmine is a leader and changemaker in the engineering profession. She runs a side business (primarily run through her Instagram – @jasmineashaw) that provides career development services, community, and coaching to help women in STEM achieve their full career potential. She serves on multiple boards and committees in the STEM community; is a member of the Ottawa Global Shapers community; and hosts #TechTalks, an interview series featuring diverse women in STEM. In her spare time she enjoys hiking, playing soccer, experimenting with vegan recipes, and spending time with her cat Juno.